Are you ready to become a SUPER USER on Pinterest?
Would you like to dramatically increase your web traffic?
Do you like learning from experts in person?
Want to know magical formulas for re-pinning?
Pinterest is the fastest-growing social media platform in history! It's a total game-changer for your blog or business. In fact, Pinterest is such a powerful referral generator that it's outproducing all but the largest social media platforms. Your presence on Pinterest can help build brand awareness, create connections and spread the word about your business. You can't afford to miss out on this marketing powerhouse any longer!
What You're Going to Learn
• How to become a SUPER USER
• How to increase your followers and your reach—in as little as 30 minutes a day
• A pinning strategy for success! (HINT—don't pin randomly!)
• Why YOU need collaborative boards—and how to get on them
• Tools to implement on your site to gain followers and get things pinned
• The magical formula to get your content REPINNED
• What you should be doing every single Sunday night
• Campaigns, ideas, and formulas to generate buzz around your brand
• Cool FREE tools that will help you meet your Pinterest goals
Who should come?
• Business Owners
• Creatives
• Bloggers
• Marketing Managers
• Anyone who has a general idea of what Pinterest is—but wants to know how to implement a strategy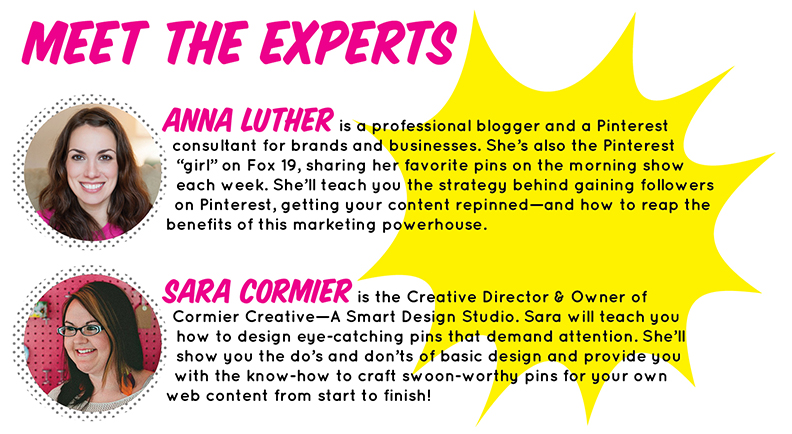 On the day of our class:
• A light breakfast, beverages and snacks will be provided
• Anna and Sara will present and answer questions
• Class is over by 1:00
• Walk away with a detailed guide for your Pinterest success!
• Join the POW Facebook group to connect with other members of the class!
Questions? Please email Sara Cormier here.